Frequently Asked Questions
What does MUADP [NRSP-7] stand for?
The Minor Use Animal Drug Program NECC1702 [formerly the National Research Support Project # 7] is a national agricultural program to approve animal drugs for minor species and uses. National Research Support Projects are efforts of the United States Department of Agriculture agency, the Cooperative State Research, Education & Extension Service (USDA-NIFA) to focus efforts on special needs in agriculture. Research projects are conducted through the State Agricultural Experimental Station System.
This particular program has as its goal the increase of therapeutic drugs approved for minor animal species and minor uses in major animal species. Other national research projects include NRSP-4 for herbicides, NRSP-6 for potato introduction, and NRSP-8 the animal genome project.
Is MUADP [NRSP-7] the same as IR-4?
No it is not. Inter-regional program #4 [IR-4] is predominately a plant-orientated program that did include a minor species, minor use animal drug component. In 1993, the minor species, minor use animal drug component was separated from IR-4 and there is no link between the two programs. In October 2017 the NRSP-7 was terminated and the The Minor Use Animal Drug Program NECC1702 was established. The structure of MUADP is the same as that of NRSP-7.
What are the minor species?
This is defined in the Code of Federal Regulations by exclusion of all species except the major species. The FDA's Center for Veterinary Medicine considers dogs, cats, horses, pigs, cattle, chicken and turkeys to be major species. This means that all other species such as sheep, goats, gamebirds, rabbits, deer and aquaculture species are among the minor species.
What is a minor use?
The Code of Federal Regulations defines this as a use for a disease that occurs infrequently or in a limited geographic area. It is a use in a major species for which the need for a drug is so small that drug development is retarded because of the lack of a large commercial market. In the human drug field this is known as an "Orphan Drug" and special legislation has been enacted to encourage commercial firms to develop drugs for those needs. The MUMS Coalition is seeking similar help for minor species and minor uses.
Who funds the NRSP-7 program?
The United States Department of Agriculture-Cooperative State Research, Education & Extension Service (USDA-NIFA) receives funding from Congress and awards grants to the State Agricultural Experiment Station system.
Why don't the pharmaceutical companies get drugs approved for minor species?
It has been estimated that it costs $2-8 million for a pharmaceutical company to add a new species to an existing drug label. The companies feel that the size of the minor species market does not justify this expense. MUADP has been able to do the studies required by FDA for a fraction of that cost.The reason for this includes the facts that MUADP is allowed by the drug manufacturer to use proprietary data, such as toxicology, towards the approval and that the infrastructure for such studies is usually supplied by host universities whose faculty are collaborating plus producer cooperation and participation in field trials.To make minor species more attractive to pharmaceutical companies a coalition known as the Minor Uses Minor Species Coalition [MUMS] was created to lobby Congress to approve legislation to provide a series of incentives to promote the involvement of the pharmaceutical industry.
I would like to nominate a drug for an MUADP
You should complete an
Animal Drug Request (ADR) form
on this web site detailing the drug, intended species and some reasoning behind your request.You can also contact one of the regional drug coordinators or the FDA liaison to gauge the chances MUADP will adopt your suggestion as a project. For a number of reasons ranging from manufacturer interest, known side effects of the drug, to importance of the disease being treated or the intended species, some proposals will have a higher priority than others. Funds are limited, so the program must select projects carefully.
What is the process for selecting which drugs are tested through MUADP?
The process for selection of drugs for testing in NRSP-7 is represented in the schematic below: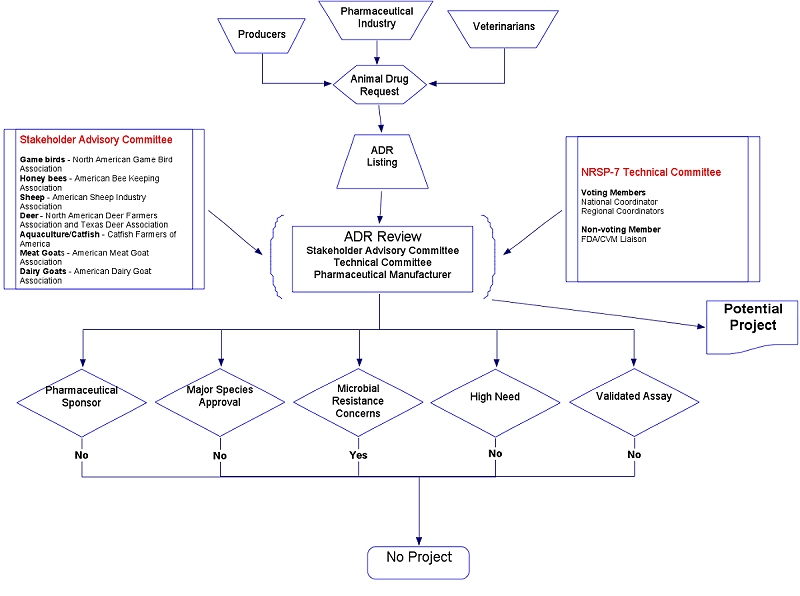 What steps are involved in MUADP getting a drug approved?
For a drug to gain approval by the FDA it must have demonstrated efficacy [the drug works for the use for which the approval is being sought], low or no toxicity to the species for which the drug is intended, safety of the drug to humans, and safety of the drug to the environment. Human safety includes user safety, and food safety if the drug is being used for a food animal [that would include data on depletion of the drug from treated animals]. The latter would be used to generate times after treatment a producer has to wait before sending the animal or its products into the food chain [withdrawal time].
I am a minor species producer, how can I help the program?
There are three ways you can help by being active in letting us know your industry's drug needs and priorities, by participating in our drug trials, and finally by letting people in your industry and your elected officials know what MUADP means to your industry. For the first two, feel free to contact MUADP through your regional coordinator, the FDA liaison, or through the Experimental Research Station system.
What criteria does the program use to choose what projects to tackle?
This is multifaceted it has to be a priority to the industry affected, a pharmaceutical company must be willing and able to take on manufacturing and marketing of the drug, there has to be an assurance from FDA that an approval is possible [e.g., drugs that are carcinogenic usually do not pass that barrier]. MUADP has a mandate to concentrate on approval of drugs that are therapeutic and alleviate or prevent pain or suffering. In the past this mandate has prevented MUADP from working with drugs that are growth promotants
per se
. The NRSP mission statement also gives priority to animal species, which are raised for production of food or fiber.
Approximately how many drugs are on the waiting list?
To date 342 drug requests have been supplied to the MUADP for the development of data in support of the submission of a New Animal Drug Approval. Since the first drug approval in 1984 under the former IR-4 program, MUADP has been responsible for generating 33 Public Master File (PMF) publications in the
Federal Register
, an average of 1.4 per year during its 24 years of funding.
What is the MUMS Coalition?
It is a coalition of producer commodity groups, pharmaceutical companies through the Animal Health Institute [AHI], veterinarians through the American Veterinary Medical Association [AVMA] and others who have joined together because of their common interest in seeing more drugs made available for minor species and minor uses. The coalition is promoting legislation to congress to do this through a number of ways including new FDA procedures, tax incentives, and incentives for minor use/minor species drug approval through grants and extension of marketing exclusivity periods.
What is the Program's link to FDA?
The Center for Veterinary Medicine [CVM] at FDA has designated a full-time position to act as liaison to the Minor Use Minor Species Drug Program. This person [currently Dr. Amy Omer] conducts outreach to minor species groups as well as facilitating interactions between CVM personnel and MUADP Regional Coordinators. MUADP has at least one meeting each year at which CVM and MUADP members discuss current projects and regulatory priorities and procedures. It is the interaction between CVM and MUADP that makes it possible for projects to be completed at a fraction of the cost commercial pharmaceutical companies estimate.